Located on the breezy banks of the Tonle Sap river and overlooking the Mekong Delta. Himawari is just a stroll away from the Royal Palace and the National Museum, a convenient location in the heart of Phnom Penh and only 20 minutes drive from Pochentong International Airport.
Situated close to most Embassies and Government offices, and a mere 20-minute drive from Phnom Penh International Airport, a stay at Himawari Hotel Apartments allows you to spend less time travelling, and more time on what is important to you. Additionally, Himawari Hotel Apartments is only a 5-minute walk away from the Royal Palace, the National Museum and other attractions, thus putting the heart of the vibrant city of Phnom Penh - Cambodia's capital - at your disposal.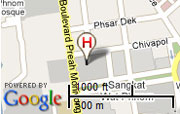 WELCOME TO HIMAWARI HOTEL APARTMENTS
"....the undisputed best hotel in Phnom Penh, The Himawari Hotel with the Most Fantastic View...." ~ The Cambodia Daily

Perched on the idyllic setting of Tonle Sap River, banks of the Chaktomok River, be immersed by the essence of serenity at Himawari Hotel Apartments; a five-star establishment. Enjoy splendid views of Mekong Delta in a tranquil resort haven. Be pampered in the Himawari suites where you can enjoy the privacy and comfort of home.
Take pleasure in our hospitality as we lavish upon you within the alluring sanctuary. The close proximity to most Embassies and Government Offices makes a perfect choice for the discerning business executives. Leisurely, our location pairs scenic beauty of the Royal Palace and the National Museum, rendering the cultural jewels of Phnom Penh.
Restaurant
Banquet
Business center
Conference room
Fitness Center
Business center

Hotel-Wide Wireless Internet
Business Centre Internet & E-mail Services
Conference Room Rental
Secretarial Service
Local & IDD Phone Calls
Incoming & Outgoing Facsimiles
Equipment Rental
Photocopying & Scanning Services
Printing Services
Bookbinding Services
Other Services
Banquet Facilities

White Board
TV Monitor
Slide Projector
Standing Rostrum
Flip Chart Stand
Video Cassette Recorder (VCR)
Liquid Crystal Display (LCD) Projector
Back Drop
Overhead Projector (OHP) Screen
Video CD (VCD) Player
Decorations
Restaurant
Presented to you a sparkling bed of ice, complete with slivers of lemon, the freshest oysters and freshest sashimi are what their namesake - Himawari's Oyster Restaurant and Bar - is famous for serving in Phnom Penh.
Operation Hour
Breakfast: 6.00am to 10.30am
Lunch: 11.30am to 2.30pm
Dinner: 6.00pm to 10.30pm
Aglow with the warmth of their tasteful furnishings, each of our 115 spacious suites provides you with an atmosphere steeped in the serenity of the orient. Complete with soft timbers burnished by the sheen of fine fabrics, our hotel apartments cocoon your senses in all the comforts of home while keeping the world at your fingertips with our hotel-wide wireless Internet Access.
Himawari suite
Additionally, at 51.35 sqm to 56.81 sqm, each of our 52 Himawari Suites is of the ideal size to provide you with snug yet private accommodation whether you're travelling alone, or with a partner.
Bedroom Executive
At Himawari Hotel Apartments, we appreciate that your small family or work group requires a living space that is neither too large, nor too small, but just right. At 63.12 sqm to 89.67 sqm, each of Himawari's 1-Bedroom Executive Apartments (15 suites in total) offers you the perfect balance of good companionship and privacy.
Bed room Executive
Enjoy the privacy of having your own personal space while staying with your mid-sized family or work group in Himawari Hotel Apartments' 2-Bedroom Executive Suites. At 117.99 sqm to 118.47 sqm, each of our airy 2-Bedroom Executive Suites (totaling 29), puts two large bedrooms complete with separate bathrooms at your disposal, thus providing you with a peaceful refuge from the day's demands.
Bedroom Premium
Indulge yourself with a stay at one of Himawari Hotel Apartments' 2-Bedroom Premium Suites (119.93 sqm to 123.29 sqm). Should you be travelling with a mid-sized to large family or work group, you'll find that all 10 of our 2-Bedroom Premium Suites offer you the perfect combination of peaceful Khmer charm and luxurious living.
Bedroom Premium
Pamper yourself with a luxurious stay at one of Himawari Hotel Apartments' exclusive 3-Bedroom Premium Suites. At a grand 175.28 sqm, our 10 elegantly furnished 3-Bedroom Premium Suites offer you gracious accommodation in which to absorb an atmosphere steeped in the serenity of the Orient.
Room Facilities:
Air-conditioning
Cable television
Telephone and Dial-up Internet Access
Wireless Internet Access
In-room safe deposit
Fully-equipped kitchen sparkling with cooking utensils, crockery and cutlery
Private refrigerator
Specially designed Himawari Hotel Apartments Kimono bathrobe
Complimentary Himawari Hotel Apartments toiletries
Daily Himawari Hotel Apartments housekeeping service