Located on Quay Sisowath in front of the Tonle Sap, close to the historic center of Phnom Penh, Wat Phnom, Royal Palace, Night Market, and nearby the sightseeing places. This modern and elegant hotel has 41 rooms with high standard of comfort at reasonnable prices. Rooms with 1, 2, or 3 beds priced between $35 to $40 with the beautiful view of the river. Modern equipment, good quality bedding, Fully Air Conditioner, Solar hot water, DVD Player, Cable TV, Internet access, Room service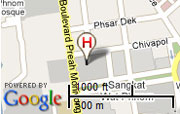 La Voile Rouge Hotel is located on Quay Sisowath, across the Tonle Sap River. Situated close to the historic centre of Phnom Penh, it features a restaurant and free internet.
The air-conditioned rooms at La Voile Rouge are equipped with cable TV, a DVD player and a minibar. Each room comes with a private bathroom.Rouge La Voile offers laundry and dry cleaning services. Free private parking is provided on site.The restaurant serves Asian buffets, while drinks are available at the bar. Guests can also order room service.
La Voile Rouge Hotel is 9 km away from Phnom Penh International Airport.
*Hotel have 41 Comfortable rooms with a beautiful river view good quality bedding, Solar Hot water, room service, free wifi.
*Restaurant open from 6:30am to 10:30pm.
*Beautiful place for wedding party, and all kind of parties with reasonable price.
*Piano bar on the Up stair which open from 4:00am to 11:00pm.
*Bakery Shop and Big Parking Car.
Each of the 41 rooms at this fine 2-star hotel feature superior amenities. There are television, internet access wireless, complimentary bottled water, air conditioning in each of the hotel's well-equipped rooms. To make each guest's stay more complete, this Phnom Penh hotel offers restaurant, coffee shop, family room. This charming property has long been a favorite in Phnom Penh for both business and leisure travelers. To make your reservation at La Voile Rouge Hotel Phnom Penh, just enter your travel dates on our secure online booking form and submit.
Room Facilities:
* All room with window and come with private bathroom.
*Air Conditioning in the rooms.
* Cabel TV , DVD player.
* Solar hot & cold water
* Wifi available ( Free of charge )
* Smoking room available.
* Limited hours room service
*24 Hours Reception and security
* Restaurant , Bar , Lounge menu, breakfast go to
* Laundry dry cleaning service