With quick and convenient access to the central business district and many of the city's main tourist attractions, your stay in Queen Boutique Hotel promises to be relaxing, with a focus on comfort and local culture.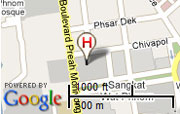 Welcome to Queen Boutique Hotel and Phnom Penh, Cambodia
It is our pleasure to accommodate you during your stay in the kingdom.
Located in the heart of Phnom Penh, Queen Boutique Hotel is perfect for Business Travellers and Tourists alike.
Experience fine dining at the Ocarina Restaurant
The menu offers a taste of Khmer with a twist of French and Italian influences, all served with the freshest and healthiest ingredients available in town.
Enjoy one of our signature cocktails in our brand new skybar, located on the 7th floor of the Queen Boutique Hotel. Enjoy the breeze and the view over Cambodia capital during one of the city's stunning sunsets, a snack on the terrace and some ... Pretty cool cocktails!
Standard Single (without balcony)
Standard Double/Twin (without balcony)
Eden Double/Twin (with balcony)
Executive Eden Single (with balcony)
Executive Eden Single (without balcony)
Executive Eden Double/Twin (without balcony)
Room Facilities:
End your days tucked in to a comfy bed with a soft down quilt with crisp, white sheets. With an extra supportive mattress, and a range of pillows to fit your preference, you will wake up feeling energized and ready to enjoy your day in Phnom Penh.
Serious about your shower
With soothing lighting, spacious interiors and overhead rain showers, you will start your day refreshed and relaxed.
All your working comforts are taken care of with a spacious work desk, high-speed wireless internet and an HDTV with satellite channels.
A fully stockd bar is complemented by a range of fine wines imported from around the world.