Angkor Era Hotel is just 20 minutes drive from Siem Reap International Airport, and a mere 10 minutes from the city cultural and shopping hubs, local markets and World Heritage Site, the Angkor Archaeological Park.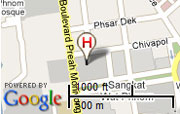 Angkor Era Hotel is a luxurious five star hotel located along National Road 6, in the most popular tourist destination of Cambodia's historic city of Siem Reap. The hotel is just 20 minutes drive from Siem Reap International Airport, and a mere 10 minutes from the city cultural and shopping hubs, local markets and World Heritage Site, the Angkor Archeological Park.
The Hotel was designed and built in accordance to the rules of ancient Khmer architechture that ensure longevity and good fortune. Here at Angkor Era Hotel, our guests will savor a true taste of Angkor hospitality and be pampered by kingly cordiality.
The hotel is a 5 storey building with features 248 units of hotel room compromising 126 Deluxe City View, 89 Deluxe Pool View, 3 Junior Suites, 6 Business Suites, 6 Family Suites, 2 Era Suites and 1 President Suite.
As with the rest of the building, the lobby is richly enhanced to deliver an ambience appropriate for a pleasant reception.
Poetic motifs are generously added to the rich interior; the aestheticism is simply magical.
The O2 lounge is a concept built on pampering our elderly and senior guest with a much needed oxygen boost to revitalize after a hard days work at Angkor. We also have a Sushi, & Sashimi counter serving Fusion Japanese/Khmer cuisine. This Lounge also specializes in a selection of Single Malt whiskey. You can purchase a bottle at a very reasonable price and if you can finish, you can always leave it behind the bar for consumption on a later date if you so choose. We also have a large selection of fine wines that you can purchase by the bottle at a very reasonable price.
Pamper yourself at our Executive Amara Spa. This spa boosts separate gentlemen and ladies room with hot & cold Jacuzzi, steam & sauna room. There is also a separate room for foot reflexology massage and we have 17 other rooms for other exotic massage like amotheraphy, essential oil massage, shiatsu and Thai & Khmer massage. The use of our spa in inclusive in your room rates. We also have a very well equipped Gymnasium. Our therapist will indulge you in the most relaxing massage after your hard days work exploring the temples of Angkor.
Our swimming pool is the biggest in town and shape like a mother womb symbolizing a mother taking care of her children. Beside the pool is our new outlet Bratwurst & Sauerkraut German poolside bistro. We have a big selection of German specialty; this poolside bar is located on a beach atmosphere making us the first to have a poolside bar on the beach feeling in Siem Reap.
Karaoke & Discotheque (Sala @ De Rio)
After a long day of touring, relax with friends over a song or two.
This concept Brazilian Club offers Cha Cha, Salsa, Tango, meringues and the South Americano hot Latino dance music. It will tantalize your senses and pump adrenalin into your otherwise tired body and will rejuvenate your very soul. We serve a selection of Tapas and very cold Sangria, so dance away into the night like you were in Rio De Janiero and having a carnival.
Our Business Center that provides fast internet access on free of charge with multiple LCD computer terminals. This room was filled of guest-book, newspaper, books about Angkor temples, local maps, cuisine guide, and other historical information about Indochina and Cambodia.
Enjoy a little something special as a reminder of your Angkor Era gift getaway, or just pick a few items up to help make your stay more enjoyable. Our hotel gift shop carries a wide variety of sundries, souvenirs, personal items, clothing and more.
For dining experience, Angkor Era offers the best of soothe Food and Khmer fine-dining experience with a touch of twist has to offer. The environment, design and characteristic architecture redefines the word restaurant and bar and as well as function and meeting facilities Our signature cocktail organized freshly by our experienced bar specialists will truly drive you to another measurement and surely you will ask for more while being serenaded by our guest local entertainers - the perfect gathering place for pre-dinner or post-cocktail drinks.
Angkor Era Grand Ballroom
Cater your group by lounging in Grand Ballroom located in the ground floor level. The auditorium seats 700 theatre styles, 350 classroom style and U-Shape 90 with size of 37.8 meters for length and 16.8 meters for width. This is the place where your conference registration will take place. This large, attractive room allows seating configurations to meet specific designs, and features blackout drapery for audiovisual demonstrations.
Elegant decor combines with sophisticated audio-visual equipment to create a productive and inviting atmosphere for your meeting. Function rooms range from the Executive Meeting room which seats 70 classroom-style, which holds up to 120 in a reception configuration.
This meeting room was filled of computer workstations, Internet access, laser printing, colour printing, full secretarial services, board rooms, furnished offices and wireless broad band Internet service in public areas.
250 appointed rooms and suites; each fashioned in their respective category differentiated by carvings and motifs to represent the degree of honour.
The interior of each room is lavishly bestowed and complete with full amenities to make your stay a pleasant one.
Deluxe City View
No. of rooms 32 King bed/ 94 Twin bed
Room Size 37 m2
(1 bedroom)
Deluxe Pool View
No. of rooms 17 King bed/ 72 Twin bed
Room Size 39 m2
(1 bedroom with balcony)
Junior Suite
No. of rooms 3 King bed
Room Size 77 m2
(1 bedroom & 1 living)
Room Facilities:
* Individually controlled air-conditioning
* Plasma TV with remote control
* Cable TV channels & in-house movie
* Touch button IDD telephone
* Free broadban internet access in every room
* In-room internet cable and electricity adopter (220V)
* Coffee and tea making facilities
* Mini Bar
* Complementary two bottles of drinking water per day
* Private balcony (all pool view rooms)
* Writing table
* Personal in room electonic safe
* Room slippers & bathrobe
* Separate bathtub and shower stall
* Wooden sofa
* Bathroom with bathtub and standing hot and cold water shower
* Full-lenght mirror
* Baby-cot (baby crib) on request with complementary use
* Iron & ironing board (on request)
* Guest service directory
* 24 hours room service
* Hair dryer