Located in San Day Village, Banteay Srey District Siem Reap Province, The Bong Thom Homestay is ideally situated the popular tourist destination of Siem Reap, home of the world-famous Angkor Temples.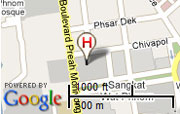 Welcome to The Bong Thom's Home Stay
When you live in a traditional Cambodian Home, you will immerse yourself in our vibrant ethnic culture.
Welcome to The Bong Thom Homestay, a unique community-based tourism site which captures the essence of village life in the heartland of Cambodia.
At The Bong Thom Homestay, you will experience a taste of "real" Cambodia, traveling by ox cart to visit local beauty spots and village homes as well as relaxing at our stunning purpose-built venue, created using raw materials that reflect the beauty of the surrounding area.
Whether you are a "day tripper" or someone interested in staying in one of our bamboo huts for a night or two, a visit to The Bong Thom Homestay is a chance to help alleviate poverty in Banteay Srey and ensure that tourism is good news for the environment and the people living there.
Restaurant
Laundry Services
Tour/Travel Services
Travel/Tour Information
Free airport/ferry shuttle
The type of house that you will live in during your homestay is most likely the traditional Cambodian house, which is made of timber and raised on stilts. It is basically a post and lintel structure with wood and a tile roof. Many windows line the walls and provide good ventilation.
Rooms are also adequately furnished and well-ventilated. You will rest peacefully day or night, serenaded by the chirping of birds and crickets.
The Bong Thom's Home stay
The Bong Thom's Home stay well out in the countryside in Banteay Srey district north of Siem Reap town. Newly constructed Khmer style traditional house set on a Cambodian fruit farm. Fruit trees abound - mangos, papaya, dragon fruit and more - and all the fresh fruit you can eat for free. Fishing pond and fishing tackle available free of change. Ox cart and ox for use around the farm area. Experience a bit of real Cambodia. Fan rooms, guest services, restaurant.
Room Facilities:
Fan Rooms available
Coffee maker in room
Safe in room