We can offer much more that just a place to stay during your vacation. Cheathata Angkor Hotelandnbsp; is located in the center of Siem Reap Kingdom of Cambodia just near by night market and 3 minutes walk from pub street. We are striving to provide our guests with an unforgettable stay while they are enjoying the highlight of historical site (Angkor Wat) and natural beauty of the Tonle Sap Lake.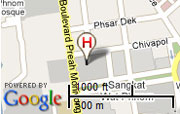 The Great khmer Ancestors has left masterpieces for their children till today the best of them is Angkor Wat temple, Cheathata Angkor Hotel is unique hotel with great potential to provide warmest hospitality to guests in the heart of Angkor capital. We would like to take this opportunity to welcome you to Cheathata Angkor Hotel-Siem Reap where we understand the needs of holiday makers and travelers.
Cheathata Angkor Hotel offers 28 rooms ranging from Deluxe Room, Deluxe Suite and Colonial Suite, all rooms have been finely remodel to include richly decorated, resurfaced with a fine hard wood floor and technologically enhanced with high speed of WiFi internet access is available, all rooms and suites with a full amenities set up. Our hotel feature one free-form top-roof swimming pool with swim-up bars to complete your holiday experience that will give you to relax during the day after your explorer and it is also available of snacks and any kind of drinks.
Our hotel rooms type has provided with three categories: 19 Deluxe rooms with twin or double bed size, 3 Deluxe suite with Triple bed and Colonial suite 3 rooms twin bed size and 3 rooms double bed size.
Our deluxe rooms offer the elegance of traditional Khmer styling with
Twin or Double bed
and the convenience of a spacious, private balcony. The rooms are furnished in fineandnbsp;wood and finished in fine detail to provide a sense of peace and serenity.
Room Facilities:
Air-conditioning individual unit
Mini Bar
Wi-Fi Internet access
Satellite Flat Screen Tv