Located in the city center, just 5 minutes from the busy downtown and pub streets and about 7 kms drive from Angkor Wat Temple and airport.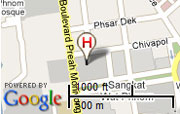 Saem Siemreap Hotel is equipped with premium room amenities and facilities and services, according to Hotel Five Star Standard. Its elegant and unique Khmer architecture is boosted with cool and fresh air, flower fragrance and a salt-water pool at the center. Every service point is just a few steps away to give its residents perfect convenience in a relaxed atmosphere.
Swimming Pool:

Guests can relax around our salt-water pool and release their body strain and tiredness through swimming. The pool also has a shallow section for children to play under supervision.
It is surrounded by frangipani trees that cool your mind with their fragrant flowers.
Daily Operation Hours: 07:00hrs - 21:00hrs.
Thida Spa:

From the moment you step through the doors, you become the center of our attention. Every element has been designed for your comfort. Indulge in our sensuously soothing, pampering and nurturing spa treatments. Let yourself go in our therapist hands and you will be completely revitalized, refreshed and recharged both mind and body.
We also offer in-room services at your request.
Daily Operation Hours: 10:00hrs - 23:00hrs.
Silver Restaurant:

The Silver Restaurant offers both Asian and continental dishes enticingly created to give their very best. Choose from a sumptuous buffet or our extensive or a visit to the temples, picnic and fresh-made bakery are available for takeaway.
Daily Operation Hours: 06:00hrs - 23:00hrs
Ruby Lounge:

The Ruby Lounge gives you a relaxed and pleasant feeling. Overlooking the pool and garden, you can order a cocktail from the lounge and enjoy our ambience.
The Lounge serves an extensive selection of cocktails and spirits with music in the background.
Daily Operation Hours: 10:30hrs - 22:30hrs
Fitness Center:

Our fitness center includes a gym, a steam room, a sauna room, showers and changing room. It provides facilities and equipment for basic exercise to keep you fit.
Daily Operation Hours: 6:30hrs - 21:00hrs.
Lobby Bar:

The Lobby Bar is the place where you can spend a relaxing afternoon enjoying our traditional high tea. In the evening, the Bar serves an extensive menu of cocktail and spirits.
Daily Operation Hours: 9:00hrs - 22:00hrs
Pool Terrace:

Pool Terrace offers a selection of drinks and light fare during the daytime.
Daily Operation Hours: 7:00hrs - 21:00hrs
Room Service:

Please review our menu for your choice of delicacies.
Daily Operation Hours: 6:00hrs - 22:30hrs
Family Premier Room:

Family Premier Room features an intimate family environment. Each of the 2 rooms is set up on a 90 sqm of space facing the impressive roof of the lobby. The wooden - and ceramic - floor room houses 2 bed rooms (one queen bed and 2 twin beds) include a living room and an open balcony.

Cabana Premier Room:

Cabana Premier Room offers a romantic atmosphere and is best for couples. Each of the 8 rooms is situated on the ground floor with 37 sqm of space just a few steps from the pool. Guests can choose to either enjoy the best view of pool directly or from inside their rooms.

Deluxe Pool View Room:

Deluxe Pool View Room is located on the 02nd, 03rd and 04th floors with 33 sqm of space. It has private balcony overlooking the pool. Morning and evening cool air offers the best refreshing moment for guests who prefer to avoid air-conditioning.

Deluxe Room:

Deluxe Room is located on the 02nd, 3rd and 04th floors with 33 sqm of space. They are ideal for parents who prefer to stay with their child. Most rooms have family-triple bedding. Its wooden furniture and floor coupled with comfortable bedding and short access to lifts and staircases make it charming and practically convenient.
Room Facilities:
Slippers
Bathrobes
Shower
Bathtub
Private toilet
Complete toileteries
Hairdryer
Towels