This is a brand new boutique hotel, twenty eight rooms only, while simplicity and elegance meet the colonial and secular Cambodian style.
Siddharta boutique hotel Siem Reap: J. Commaille St. (backroad from Angkor Wat), behind Le Meridien hotel.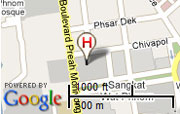 Siddharta hotel is located midway between the center of Siem Reap and the Angkor temples, in a quiet and green area, the Siddhartha boutique hotel warmly welcoming you in an intimate and refined setting.
Lounge and restaurant
Located on the roof top of our hotel, the restaurant and the lounge bar offers an extraordinary sight view of the Cambodian countryside. Siddharta is even the only hotel of Siem Reap from which we can admire the central tower of Angkor Wat in the middle of the vegetation.
In the lounge part you will relax on comfortable armchairs and sofas, sipping a cocktail reading a good book from our library or the daily press.
The restaurant allows our guests to discover a selection of Cambodian, Asian and French dishes as well as wines from the world. It is also the place where you will have copious breakfast from 6:30 am untill no time.
The plunging sight view on the hotel swimming pool and the countryside is simply magnificent, especially during the sunset.
Spa
After visiting and climbing the temples nothing is better than reducing your muscular pains. Thanks to the massage with essential oil! Our spa consists of two air-conditioned rooms able to welcome couples for simultaneous treatments.
Our masseuses are awarded with a diploma by a professional school of massage.
Deluxe rooms
We offer you the transportation for your visit.
With only 24 deluxe rooms (36 m2),
two "honeymoon" suites (43 m2) and
two family suites (72 m2),
Siddhartha is a boutique hotel designed in compliance with the Khmer tradition.
Nestled in a garden of tropical greenery, Hotel Siddhartha offers a unique choice of rooms and suites, ideal for a discovery stay of Angkor temples for couples, friends or family.
Each deluxe room has a private balcony overlooking the garden and the swimming pool. On the ground floor, the terraces are particularly large and are equipped with comfortable rattan chairs and an armchair nest. We do have twin, double (king size bed) deluxe rooms as well as double with an extra bed.
Room Facilities:
Amenities:
24 hour front desk (morning calls)
Daily housekeeping and turn down service
Private bathroom
Flat screen TV LCD 32 inches (80 international channels)
IPod and MP3 player
Multiplugs (to charge camera, phone...)
International phone
Wifi in each room (free access)
Air conditionner Carrier Inverter low consumption (individual remote control)
Extra bed available (baby cot as well)
Mirror
Sealed bottle of water (on complimentary)
Minibar
Coffee and tea facilities (on complimentary)
Desk table
Large armchair
Private balcony
Digital safecode
Bed description:
Quilt
Cotton bedsheet
4 pillows
Cushions
Coton cover duvet
Matress "Sealy brand"
Bathroom:
Mirror
Fully equiped bathroom
Separated shower
Bathrobe
Shampoo, shower gel, etc...