The best customer service in the guest house greeting is waiting to help you.
Please feel free to contact us if you have any questions about our guest house services.
Our trained professionals will be happy to assist you, copy and paste the email address into your email client. Set in the heard of Siem Reap, Cambodia, Home of Angkor Wat, our experienced and friendly staff will ensure your stay here is unforgetteble.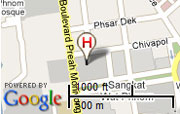 SORPHOUN Villa is the best fancy to your fortune staying with Khmer typical facilities wood decoration and offers you the best hospitalities and services. The natural equipped with the combination of art-decor furniture, air conditioning making the valued guests feel very warm and bright.
There are 33 guest rooms tastefully appointed with art decor-Khmer designer amenities for your comfort & convenience. SORPHOUN villa set in the heart of Siem Reap, Cambodia, Home of Angkor Wat, our experienced and friendly staff will ensure your stay here is unforgettable. SORPHOUN Villa has an ideal location, one block from a long national road 6 between Phsa Samaki market and Phsa Leu market, just 10 minutes from the airport. 7 minutes to the Angkor Wat & only 5 minutes from shopping and dining at the Old Market & Pub Street.
We can cater for all your personal needs from arranging reliable moto taxi or tuk tuk drivers to guide you around the glorious Temples of Angkor to make sure your on-going travel plans go smoothly. Visas, bus tickets, flight bookings etc can all be handled by our experienced staff, you can simply enjoy your stay and let us deal with the rest!
We are committed to providing our guests with a safe and comfortable stay at our house. We employ a guard to work at night to ensure safety and security of our guests. We consider guests as our livelihood and thus all their constructive comments and feedback about the service at our guesthouse are always listened to. Please drop in to our establishment whenever you visit Siem Reap / Angkor. Our door is open for you 24 hours!
1. Free pick up service from anywhere in Siem Reap town
2. Free Wi-Fi access in bed room, restaurant and lobby
3. Tour and travel information
4. Cool towel and welcome drinking offered up on arrival
5. Bus-ticket reservation
6. Restaurant(Khmer, Korean, Western)
7. Landry service
8. Traditional Khmer massage service
9. CCTV installation
10. Free toilet articles
11. 24h/7days receptionist
12. 24h/7days security
Sor Phoun Villa has one of the most comfortable rooms available in Siem Reap. All our rooms are unique and beautyfully furnished in traditional Cambodian style, with all the modern amenities.
Room Facilities:
In-room safe
Hair Dryer
IDD telephone
Bathroom with hot & cold water
Bathtub with hot & cold water
Bathrobe
Slippers
Multi channel cable TV
Tea & Coffee making facilities
Mini Bar