This Siem Reap Hotel is conveniently located in the Heart of Siem Reap town within walking distance of the top Business, Restaurant, Shopping, Museum, Bank and Entertainment areas. Just 15 minutes drive from Siem Reap International Airport and 10 minutes to the world-renowned Angkor Wat temples. A convenient address for Business and Leisure travelers.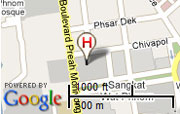 We warmly welcome you to The Frangipani Green Garden Hotel and Spa, there are three houses which are beautifully decorated using the best Khmer quality wood. We have 16 rooms, all en-suite from Suite to Deluxe. There are rooms available with air-con and attached quality facilities and the home has a great central location in Siem Reap. We all respect the Khmer tradition of friendship and hospitality.
The Frangipani Green Garden Hotel and Spa was built by a Khmer architect using both wood and concrete, comprising three separate buildings. The original is a one-storey wooden house and the other two are concrete built. In the wooden house there are three beautifully decorated rooms, all en-suite with authentic Khmer furniture with private balcony.