Far away from Fishing port 3km. Newly open hotel on the peak, just above the sea port of Sihanoukville, provide a nice vintage view.Far away from Fishing port 3km.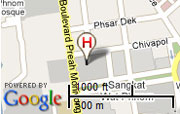 The Recreation City at the Summit Hotel, bright pearl situated on Cambodia pristine seashore, is famous for its outstanding hospitality, cuisine, as well as fitness, leisure, tourism and gambling facilities, At the Recreation City casino you have a wide array of choices: Baccarat, Twenty-One, Poker of electronic gambling machines. Try you luck during a break.
Beauty salon, Lounge, Helicopter Pad, Tennis court, Swimming pool, Zoo, Meeting Room, Restaurant & bar, Laundry and Casino.
65 luxurious rooms.
Room Facilities: Large rooms with private bathroom, air conditioning, cable TV, mini-bar, hot and cold water