Cambodia food is closely related to the cuisines of neighboring Thailand and Laos and, to a lesser extent, Vietnam, but there are some distinct local dishes. The overall consensus is that Khmer cooking is like Thai without spicy. Curries, stir tried vegetable, rice, noodles and soups are staples of the Khmer diet.
Cambodia is well known in the region for its Prahok, a strong, fermented fish paste used in a variety of traditional dishes. Fresh serve bottled drinking water and tap water should never be drunk. Similarly, salad and fruit served at these establishments are safe. All Tours are based on full board arrangements. For full-day excursions, picnic lunch can be provided if no adequate restaurants are available.
Phnom Penh is far and away the best place to try inexpensive Khmer cuisine, though Siem Reap also has some good restaurants. One of the easiest and most affordable ways to acquaint yourself with Khmer cooking is to wander into the food stalls found in markets all over the country and simply sample each dish before deciding what to eat. In Phnom Penh you also have the choice of excellent Thai, Vietnamese, Chinese, French and Mediterranean cooking.
Rice is the principal staple in Cambodia and the Battambang region is the country's rice bowl. Most Cambodian dishes are cooked in a wok, known locally as a chhnang khteak.
Traditional Khmer Food

Samlor Kako
Samlor Kako is one of Cambodian national dishes. It uses an incredible range of ingredients to achieve its complex range of flavors, including the famous prahok or fermented fish cheese, which is unique to Khmer cuisine.
Unlike other Khmer dishes, this can be served as a one-pot dish because it is a reassuringly well balanced meal on its own. Some prefer it as a vegetarian dish where the fish and meat are omitted and replaced by coconut cream and vegetable stock
Khmer Sour Soup
A bowl of fresh Khmer sour soup helps the body feel refreshed and clean, leaving just enough room for dessert. Sour soup is among the most popular Khmer foods. For years, this vegetable stew has fed hardworking Cambodians, particularly in the countryside where ingredients are easily found in neighboring pastures and ponds. Today, city dwellers enjoy this dish as a healthy alternative to fried bananas and fish. Expatriates living in Cambodia also are realizing the healthy benefits of eating a diet of fresh fish and water green, the base of Khmer sour soup.
Samlor Prorhal (Prorhal Soup)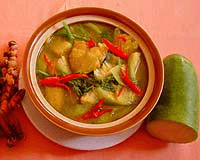 Samlor ProrHal is a kind of Khmer food traditionally made by people who live in the countryside. The dish is often served at times of celebration, during religious festivals or on special occasions, when city-dwelling family members come back to visit their hometown.
If someone from the city takes a foreign friend back to his village, he might ask his family to make Samlor ProrHal for them, because he can be sure a foreigner will never have tasted anything quite like it.
It's a really traditional Khmer dish that is often prepared at home, and usually eaten at lunchtime. But the most important thing about eating Samlor ProrHal is that it is enjoyed with family or friends - it's a dish made to celebrate spending time with people you love.
There are lots of different kinds of Khmer food, but Samlor ProrHal is generally regarded as the best Cambodian cuisine has to offer.
More Articles on Trip Planner