Addres: National Road N.5 Prekmorhatep Village, Svaypor Commune, Battambang District, Battambang City, Kingdom Of Cambodia.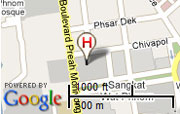 What's the story?
The Stung Sangke Hotel story was a one of Church Catholic, Once used as Cambodia 7 January Hotel and complete restored in January 2005 after years of suffering and sadness.
Combining sensitivity, style and design and appreciation of Cambodia's unique and magical. Our company prides itself in welcoming dignitaries, celebrities and numerous travelers and local patrons to its establishments.
Our objective: to give each visitor a small but unique memory of Cambodia.
The STUNG SANGKE HOTEL
The first deluxe 4 star international Hotel in Battambang province set within the heard of the city and offer unique blend of hospitality as well as deluxe hotel accommodation.
The hotel is the wise travelers secret to enjoy the marvels of BATTAMBANG and sister temples with the knowledge that one will enjoy the style and fun of staying at a truly great venue.
Swimming pool
Restaurant
Business Center
Club
Conference Room
Massage
We offer a comprehensive range of deluxe facilities and services to present our hotel to be amongst Battambang best selection for a home a way from home. 130 la vishly furnished rooms with a wide rang of a amenities; spacious restaurant serving a rich array of international and local cuisines; a well stocked bar; gymnasium and an alluring swimming pool equipped with jet massage for relaxation. Browse the icons to check out our facilities;
At stung Sangke Restaurant we offer a casual dinning experience. A delicious bistro style menu is served from our chef serves inspirational daily specials savoring the fresh textures and flavors of great organic local product.
The large yet friendly restaurant open 06:00 -23:00 daily offers a range of both Asian (Khmer, Thai & Chinese) and Western cuisine. All served with style in an atmosphere of spacious intimacy.
Whether you are part of a large group or traveling individually, you will be served promptly and attentively by or hand - picked and professionally trained staff.
The Swimming Pool
Immerse yourself after a day by relaxing in our pool set in second floor of the main building. Simply cool down take a dip in our Khmer decorated swimming pool.
Select from the array of the refreshments and fantalizing cocktails with snacks while soaking up the warmth of the tropical sun.
24 deluxe Doubles rooms each room size 25sqm
97 deluxe twin each room size 30 sqm
3 deluxe triple each room size 38 sqm
6 Studio suite each suite size 55 sqm
Room Facilities:
Each room is stylish designed and feature all the modern convenience such as:
Air conditioner
Well stock Mini bar
Individually controlled air conditioning
Room key card
Bedside control panel with light switch
Guest amenities
Bathtub with hot and cold water
Slipper
Multi-channel cable TV
Tea & Coffee making facility
Hair Dryer - upon request