Air
Cambodia is served by an increasing number of flights from neighboring countries. Currently Cambodia has three airports receiving international flights; the Phnom Penh International Airport, the Siem Reap International Airport and the Sihanoukville International Airport. These airports receive direct flights from more than a dozen, mostly east Asian cities. Cambodia Visas are available on-arrival at Phnom Penh and Siem Reap airports only for most nationalities ($30 for a tourist visa, $35 for business visa.) The Phnom Penh International Airport is about 10 kilometers or 35-45 minutes from down town. The Siem Reap International Airport is only 5 kilometers or 15 minutes to town center. The Sihanoukville International Airport is only 20 kilometers or 30 minutes to city center. There are always taxis, tuk-tuks and motodups awaiting and available for arriving passengers. There are only three cities in the Kingdom of Cambodia have domestic air services: Phnom Penh city, Siem Reap city and Sihanoukville.


Bus
There are a many of bus companies providing transportation between Phnom Penh and the provinces that have better road and connect with Phnom Penh. All buses are air-conditioned and equipped with Video TV, Wi-Fi. The average travel speed of the buses is about 80 kilometers per hour. Bus stations are mostly located around Phsa Thmey (New Central market) area and Riverside.
The cheapest option to travel in Cambodia is to travel using the bus. The buses in Cambodia has 2 types, called local/city buses, which often make trips between short distances and vip buses, which often make long journeys. The latter tend to be comfortable and best of all is that you get the option to travel at night, which are called the sleep/night bus. There are many bus companies are offering this night bus.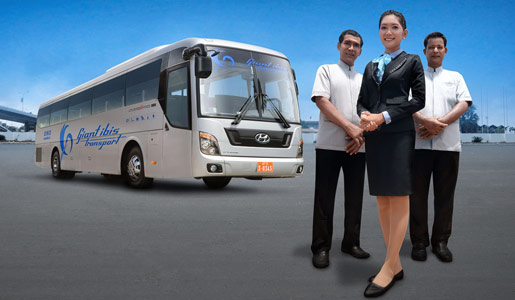 Is an "Affordable Luxury" bus service especially for travelers who desire comfort, safety, internet access en-route, and helpful English-speaking staff. Giant Ibis Transport are now recognised at the top of our Species Champions' Roll of Honour and the story about the collaboration between BirdLife International and Giant Ibis Transport also widely announce. Proving bus between Phnom Penh - Siem Reap and Phnom Penh - Sihanoukville with Luxury Bus.
Phnom Penh: 3E0, Road 106, Sangkat Doun Penh, Khan Doun Penh
Siem Reap: Nº 252, Phum Viheachen, Sangkat Svay Dangkum
Sihanoukville: Street to Sokha Beach, Group 5, Sankat 4, Sihanoukville City
Is a Cambodia company and commenced operation in 2002. Mekong Express is the leading and fastest growing passenger transport bus company in Cambodia. Mekong Express operates daily schedule, services to major destinations in Cambodia and also cross border service to Vietnam. from the outset, " Mekong Express " has a great reputation among the international travelers as a company has high level safety and rigid maintenance standard. Our vehicles are sourced from Japan, of course, well known for comfortable ride on and highest mechanical quality control in worldwide. Since our inception, many other companies tried to copy our achievements, but would not success in this stage.
Address: #87 Eoz, St. Sisowath Quay, Phnom Penh, Cambodia.
Corner Street 217 and street 67, Phnom Penh 12209 Cambodia.
Cambodia Post VIP Van
Street 13 (corner of 102) Phnom Penh City, Kingdom of Cambodia.
Thero Express Van
#59Eoz, St. Paster (51), Sangkat Phsar Thmei 3, Khan Doun Penh, Phnom Penh City, Kingdom of Cambodia.
Capitol Tours
#14 Street 182, Phnom Penh 12258 Cambodia.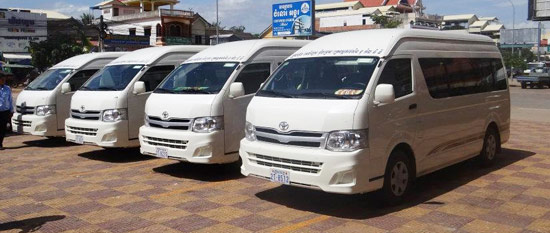 Elephant Express Transport
Siem Reap : #18, N. St. 06, Banteay Chas Village, Slakram Commune, Siem Reap Province
Phnom Penh: #118, St. E0, SangKatt Pha Kandal, Khan Don Penh, Phnom Penh city
Golden Bayon express
Phnom Penh: #3Eo-126 St. Phsar Tmey 1 Commune Don Penh District Cambodia
Siem Reap: #264 Wat Bor St. Wat Bor Village, Salakamrek Commune, Siem Reap Cambodia.
CAN I BOOK BUS TICKETS IN CAMBODIA BY ONLINE - YES
As you see, it will be that easy now to book your tickets. For more information on how to book bus tickets in Cambodia we leave the following list of all connections between the main destinations in Cambodia and possible connections to both Thailand, Laos and Vietnam.
BUS FROM PHOM PENH TO ..
The capital is one of the main destinations that are in Cambodia . In the following list you can know the schedules and prices to go to Phnom Penh or to go from Phnom Penh to any of the destinations.
BUS FROM SIEM REAP TO ...
Would you like Siem Reap and the historic ruins of Angkor Wat ? The following list will have all the information to know how togo to Siem Reap or to know to go from any destination in Cambodia.
BUS FROM SIHANOUVILLE TO ...
Other major destinations there on a trip to Cambodia is certainly Sihanoukville. In the following list you'll know how to get to know the city and as then go to any other destination.
MAIN ROUTES FOR INTERNATIONAL BUS:
You can also make reservations from Cambodia to destinations in Thailand, Vietnam or Laos. The following list will have all the information to know how to go from Siem Reap to Thailand or Laos and from Phnom Penh to Thailand or Vietnam .
Phnom Penh City Bus
Phnom Penh City Bus is a municipal public transport system that serves Phnom Penh, the capital of Cambodia. The system opened to the public in September 2014 with 3 lines, other lines have been gradually added over the next several years, as of 2018, 11 lines run throughout the city. The system covers Prek Pnov (North), Ta Khmao (South), Chbar Ampov (East), and Special Economic Zone (West), there are plans to stretch the network outward.
The fare for the public buses is KHR1,500 (USD0.37) per voyage irrespective of distance. Only local currency Riel is accepted. Senior citizens (age over 70), small children (under 1 meter), disabled, monks, teachers, students, factory workers (until September 2019) travel free as of 2018, though you must confirm your identity by wearing your student card, teacher card or working card before boarding.
The bus starts daily from 05:30 in the morning until 20:30 at night. Read more...
Boat
There are eight boat companies currently providing services between Phnom Penh and Siem Reap and one boat company operating Phnom Penh to Chau Doc. Since there is limited numbers of passenger travel, boat companies are taking turn to cruise, one company a day. 7:00AM is the departure time and half hour shall be arrived prior to the departure. Ticket shall be bought at least one-day advance for the assured seat but it is also available at location. All boats are equipped with air-conditioner, toilet and Video TV. Enjoy your ride, experience your journey with rooftop and you will have the benefit of spectacular scenery and see the true Cambodian villagers.
Boat Companies:
Khemara Express Boat: High Way No 5A In Front of Soksan Club: Tel: 023 430 777
Soon Ly Boat: Tel: 023 725 797/ 012 728 055
Channa Boat: Tel: 023 725 788
Royal Express Boat: Sangkat Sras Chork Khan Daun Penh, Road No 5. Tel: 023 725 538
Angkor Express Boat: Sisowath Squay International Phnom Penh Port. Tel: 023 426 892
Hang Chau Boat: Sisowath Squay International Phnom Penh Port. Tel: 012 883 542
Phnom Penh and Siem Reap
Departure Daily at 7:00AM, Journey will take about 5-6 hours and it will be extended depend on the water level.
$25.00 per ticket and you may find cheaper if buy at Travel Agent
Phnom Penh and Chau Doc
Departure Daily at 12:00, Journey will take about 4-5 hours, Operated by Hang Chau Boat Company, $25.00 - $35.00 per ticket
Departure Daily at 13:30, Journey will take about 4-5 hours, Operated by Blue Cruiser SpeedBoat Company, $35.00 per ticket. On Board Service included: Hot Tea, Hot Coffee, Cookies, Cold Mineral Water, Small sweet Bananas, Wet towel.
Charter (private) boat is also available for this boat company.
Taxis, Motortaxis, Reumork or Cyclo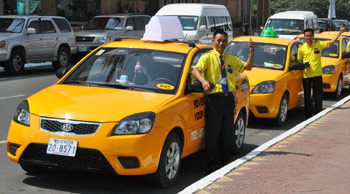 Taxi Meter is available in Phnom Penh and Siem Reap now.
Uber ride-hailling apps - Finally, Uber came to Cambodia and started its service test in Phnom Penh. Uber accepted cash and credit card payment.
Choice Taxi (Yellow) - Phone: 023 888 023, 010 888 010
Global Taxi (White) - Phone: 023 222 688, 010 311 888. Was the first taxi company in Cambodia using taximeter. They usually offer an on-call 24/7 service, although sometimes they wait in tourist areas especially late at night. The price starts at 4000 Riel (1 USD) and will take you 2km then you have to pay 400 Riel per km.
The taxi costs from 5$-7$ from the 20-50 minutes or 20$-30$ per day ride into and within the city center. Cheaper, faster and less comfortable, motorcycle taxis can be hired for $2 in town. For transfer from hotel to airport costs from 8$-10$ per way and you can find it at most hotels and travel agencies near by you.
At the moment, most tourists can find the easy way by taking the REUMORK (Tri-cycle motor) or Cyclo (Tri-cycle) at any where in city with cheap price. Cyclo is charged in cheapest price and it is most used by many tourists who wanted to visit city slowly.
For taxi to province, you can find it around Phsar Thmei (New Central market) or Phsar Deum Ker or at any travel agents.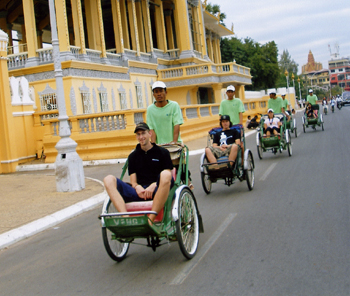 Train
The Royal Railway now is providing train from Phnom Penh to Takeo, Kampot and Sihanoukville and v.v every weekend Friday, Saturday, Sunday and major holidays. It is available only 74 - 76 seats for passengers.
Train Schedules:
Phnom Penh - Takeo - Kampot - Sihanoukville:
Friday: 7:00 AM and 03:00 PM
Saturday and Sunway: 7:00 AM
Sihanoukville - Kampot - Takeo - Phnom Penh:
Saturday: 7:00 AM
Sunway: 7:00 AM and 04:00 PM

The train will take about 7 hours from Phnom Penh to Sihanoukville or v.v
The schedules are subject to change without prior notice, so you must check with the company before you travel.
The ticket can be purchased at Phnom Penh in Railway Station with cost 6$ to Kampot and 7$ to Sihanoukville. Tickete office will be open from 08:00 till 16:30 each weekday and 06:00 to 12:00 each weekend. They are in the process to open up passenger sales at Takeo, Kampot and Sihanouk Ville soon.
This office can answer all your questions however should you not be able to get to the station you can call to: 078 888 582 or 078 888 583 during the office hours.
Photos Credit: Sabay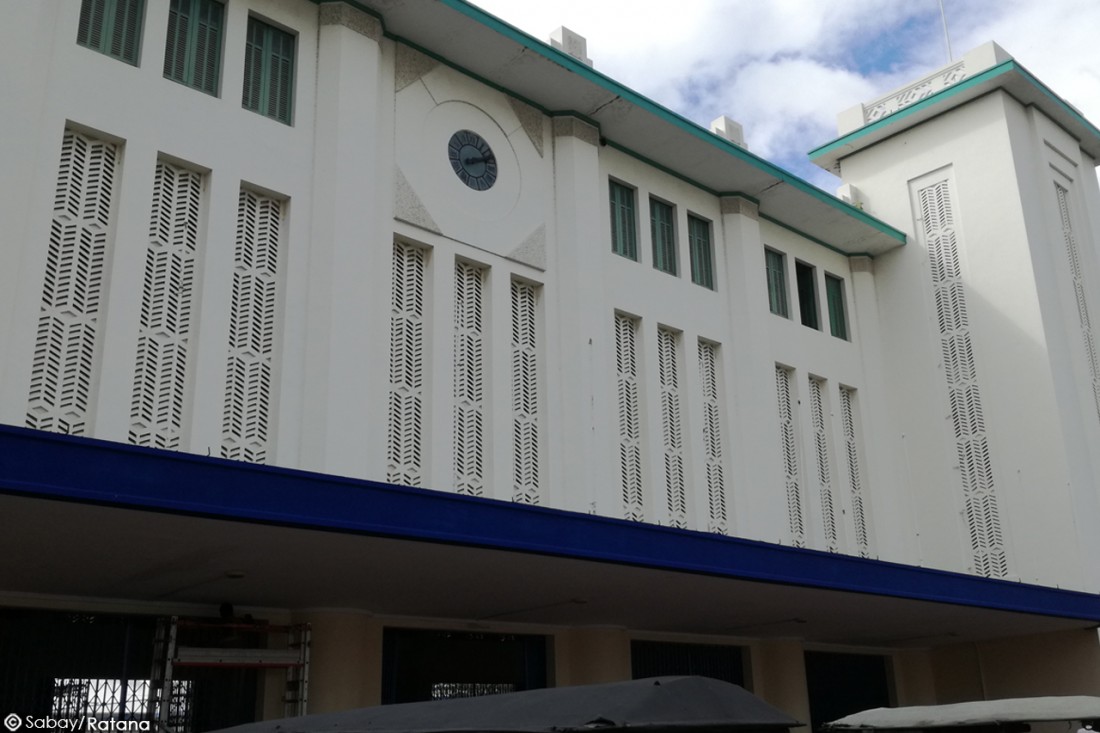 Video Credit: Tram Lyrattanak
Updated: 20 Dec 2016