There's more to Cambodia than beaches and temples. A luxury waterborne ecolodge offers a wilderness break in style.It's pitch black as I set off tentatively in my kayak, the starless sky merging seamlessly into the inky river. The only sound is of my paddle in the water and a faint chirping of cicadas. Suddenly the darkness is broken – a tree decorated in a thousand fairy lights is frantically flickering on the riverbank.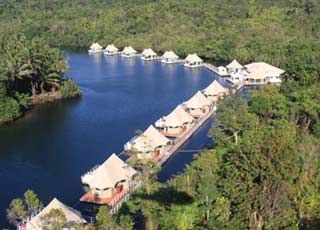 "It's the firefly disco," says Chilly, my guide, pointing at the twinkling display.I am, it's fair to say, in the middle of nowhere. This is the Tatai river, east of Koh Kong, in the southern reaches of Cambodia's Cardamom mountains. Half-way between Bangkok and Phnom Penh, this is a pristine area of rainforest and coastal mangroves that barely features on the tourist trail.
What's more I'm camping – though it's not exactly pop-up tent and baked beans. I'm staying at the Four Rivers Floating Lodge, which takes glamping to a whole new extreme.The brilliant idea of Romanian owner Valentin Pawlik, the entire resort is waterborne. You get here by boat, arriving at one of a series of floating wooden platforms. A central pontoon houses bar, restaurant and library.
There are 12 huge and super-luxurious South African safari tents (six more are planned), with private decks and sunloungers, double-sinked en suite bathrooms, and flatscreen TVs and DVD players that seem a tad incongruous in the heart of the jungle. But, hey, this is wilderness in style.It's all very eco-friendly too – largely solar-powered, and staffed mostly by locals – so you needn't have a guilty conscience. Move it away and there'd be little sign that it had ever existed.
Leaving the fireflies to party I paddle slowly back home and feast on spicy shrimp and freshwater fish with coconut, cooked in banana leaves, before heading for a blissful night's rest, lulled to sleep by the gentle bobbing of the water.Most visitors to Cambodia flock to the revitalised capital of Phnom Penh further east, and the temples around Siem Reap in the north. This coastal region, part of the Koh Kong Conservation Corridor, is home to some of the country's most impressive natural sights. The long civil war kept developers and loggers at bay, and the potential for ecotourism is huge (although the threat of hydroelectric power plants looms).
Four Rivers, with its gorgeous setting on a bend in the river, is magical at all times of day – misty in the morning, glowing at sunset and prettily lit up after dark – and as tranquil a place as you could wish for. I spend much of my time here kayaking through the mangrove maze (spotting those fireflies, and watching monkeys gather at the water's edge at dusk), swimming in the river from steps outside my tent (a pool is planned) and visiting waterfalls, where the pounding torrent gives a great back massage.
There are excursions into the jungle, led by a former poacher, to spot wildlife and to visit villages and fruit plantations (overnight camping is a new option too). As I'm here at the end of the rainy season, when leeches and mud make trekking treacherous, we take a boat downstream instead. Thick mangrove forests line the banks, and dolphins can sometimes be spied in the estuary opening on to the Gulf of Thailand. Koh Kong island appears on the horizon, an as yet undeveloped paradise with pristine beaches and untouched rainforest.
We stop at Koh Sra Lau, an island with one tiny fishing village, and wander around while women sit mending nets and offer us fried fish with tamarind sauce and papaya. There's no tourist fatigue here, just friendly welcomes. A little boy grabs my hand and leads me to the village school, where children proudly sweep the classroom before the teachers appear.
I'm keen to explore more, so the next day head to Chi Phat village, and a community-based project started by conservation charity Wildlife Alliance in the Southern Cardamoms Protected Forest. It aims to preserve the rainforest by helping villagers earn a living from ecotourism, instead of illegal logging or hunting endangered animals, and giving tourists a unique green adventure.
It's a winding bus journey down to the port town of Andoung Tuek and a two-hour boat ride along Phipot river to the village. There are several guesthouses, but I choose a homestay on the outskirts of town with Chou and her young family, who sit underneath the stilted wooden house, a cow curled at their feet like a pet dog. A far cry from the luxuries of Four Rivers it may be, but it's clean, comfortable and a great way to see everyday village life.
Chi Phat is all about outdoor adventure: you can trek or cycle into jungle and mountains for days at a time, sleeping in hammocks or rustic campsites, go birdwatching, take boat trips or check out the nearby bat caves and an area dotted with mysterious ancient burial jars. I sign up for a 28km mountain bike tour to O'Malu waterfall.
Crossing grassy plains and traditional farmland, we follow Lucky – a 23-year-old from the village who's been trained in everything from bike maintenance to wildlife spotting – up steep paths through the tangled jungle, with gibbons calling high overhead. It's a challenging ride in parts (yep, I end up on my bum in a puddle at one point) but jumping into the cool pool at the base of the waterfall is a great reward.
There's no one else around as we tuck into lunch, sitting on rocks in the sunshine, surrounded by rainforest, the waterfall roaring. Marvellous though the sights of Angkor Wat and the buzz of Phnom Penh are, I can't help thinking that it's Cambodia's more remote natural attractions that offer the best adventure – and one it would be a shame to miss.
Source = amnews.org