Chaktomuk Temple, a unique ancient Buddhist shrine in Cambodia, is gradually regaining its popularity as a heritage site destination as more tourists visit the attraction following its restoration last year.
The temple's four surviving back-to-back Buddha statues – facing north, south, east and west respectively – are regarded as unique in Cambodia.
Chaktomuk Temple is located within the vicinity of the Bakan temples, also known as the Preah Khan Kompong Svay archaeological complex, built between the 11th and 14th century about 100km east of Angkor in Preah Vihear province.
Prior to restoration, the upper half of the Chaktomuk Temple structure had collapsed, with the four back-to-back Buddha statues covered by overgrown plants which had eroded their surface.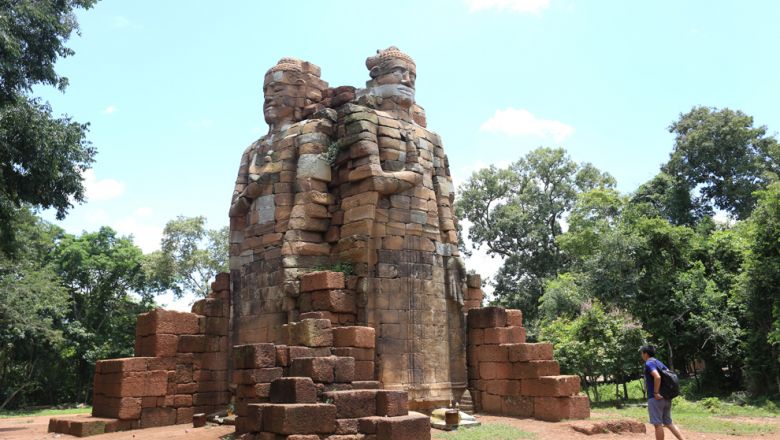 The Ministry of Culture and Fine Arts has designated Chaktomuk Temple as one of Cambodia's rarest and most unique. At an honorific ceremony, Deputy Prime Minister Men Sam An, who was appointed to lead the temple's restoration, said the work was carried out with four purposes.
Firstly to precisely identify the structure's construction date; secondly to prevent people damaging the collapsed Buddha statues further; thirdly to promote cultural and religious tourism; and finally to attract more visitors to increase local income.
Chaktomuk Temple's design is remniscent of the world famous Bayon Temple's four-smiling faces statue in the Angkor Archaeological Park, built as a dedication to the four-faced Avloketesvar (a bodhisattva who embodies the compassion of all Buddhas).
"The four directions each Buddha statue faces are about the four Brahmavihara: Metta [loving-kindness], Karuna [compassion], Mudita [joy with others] and Upekkha [equanimity]," Royal Academy of Cambodia archaeological professor Thuy Chan Theoun told The Post.
"As far as I know, Chaktomuk is the only temple with surviving joined back-to-back Buddha statues in the country. It is a unique temple."
He continued that Chaktomuk Temple was built in 12th century during King Jayavarman VII's reign. In that period, the king led his men to the Bakan temples to fight back Champa's troops before recapturing Yasodharapura (Angkor city) from invading Chams in 1181.
"Bakan Kampong Svay [Preah Khan Kompong Svay] is the largest ancient city in the Kingdom. The former city is where King Jayavarman VII's troops stayed," said Chan Theoun.