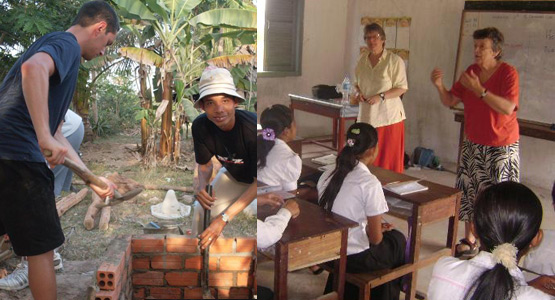 The Meas Family Home Stay is a lovely place to visit for anyone traveling south of Phnom Penh. It is pleasantly situated in the countryside about 2 K from Ang Ta Som market on National Road 3 and easily accessible to Takeo town.

Our Home Stay is a unique experience for those travelers interested a more meaningful and a closer look into Cambodian rural life. Located on a farm, visitors from America, New Zealand, Australia, and Europe have all enjoyed the tranquil beauty of the surrounding rice paddies since 1999. A grove of coconut and mango trees encloses our compound while orchids rest quietly by the side of our pond.

It is truly a peaceful respite from the hustle and bustle of Phnom Penh. We invite you to swing comfortably in a hammock beneath the shade of one of our grass thatched canopies. However, the Meas Family Homestay is much more than a quiet retreat. Your stay will include a taste of real Khmer food and convenient cooking lessons at our outdoor kitchen.

We are happy to share our past experiences with all our visitors as well as some local and national history. In addition, many of our guests like to take some time learning new Khmer phrases. Local trips can be arranged to see the local Pagoda, school, market, silk weaving village, Angkor Borei Temple etc. This is a truly wonderful opportunity to learn more about Cambodia in a resplendent and friendly environment.

During the home stay, visitors who are interested in doing some volunteering activities can do some activities as following :
- Teaching English at secondary school and Hope For Happiness Centre at Meas Family Homestay with the children in community
- Library work at school
- Community activities as building simple house or toilet for the very poor family in the the village
- Heath care education
- Khmer cooking food lesson
- Farming jobs as harvesting rice ( December)
- Visiting locally sights....etc.

For the guests who want to stay longer and doing some projects work in the community, we will assisting or help to organize in that project...etc.
Meas Family Homestay is located in Takeo Province, 700 meters off from road 22, between high way 2 and 3 (high way 3 is closest to our homestay). Routine bus stops at Angtasom town is scheduled almost every hour running between Phnom Penh and Kompot such as Sorya, Capitol, Rith Mony, Hour Lian Tourism bus lines... Our Homestay can help provide car services, several taxi cap services, Motorbike Service (Moto Dub) or Tuk Tuk that can be arranged to fit your trip schedules. (See map below)

For more detail contact :
E-mail : mshomestay@gmail.com
Tel : (855) 11 925 428, (855) 11 687 554
More Articles on Things To Do