Between 1975 and 1978, about 17,000 men, women, children and infants (including nine westerners), detained and tortured at S-21 prison (now Tuol Sleng Museum), were transported to the extermination to death to avoid wasting precious bullets.
The remains of 8985 people, many of whom were bound and blindfolded, were exhumed in 1980 from mass graves in this one-time long an orchard; 43 of the 129 communal graves here have been left untouched.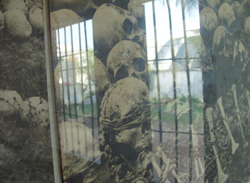 Fragment of Human bone and bits of cloth are scattered around the disinterred pits. Over 8000 skulls, arranged by sex, are visible behind the clear glass panels of the Memoral Stupa, which was erected in 1988.
The Killing Fields of Choeung Ek are 15 km from Central Phnom Penh. To get there, take Monireth Blvd south-westward out of the city from the Dang Kor Market bus depot. The site is 8.5 km from the bridge near 271 St. A memorial ceremony is held annually at Choeung Ek on 9 May.
Map of Choeung Ek Genocidal Center
More Articles on What To See