Transportation - Battambang, Cambodia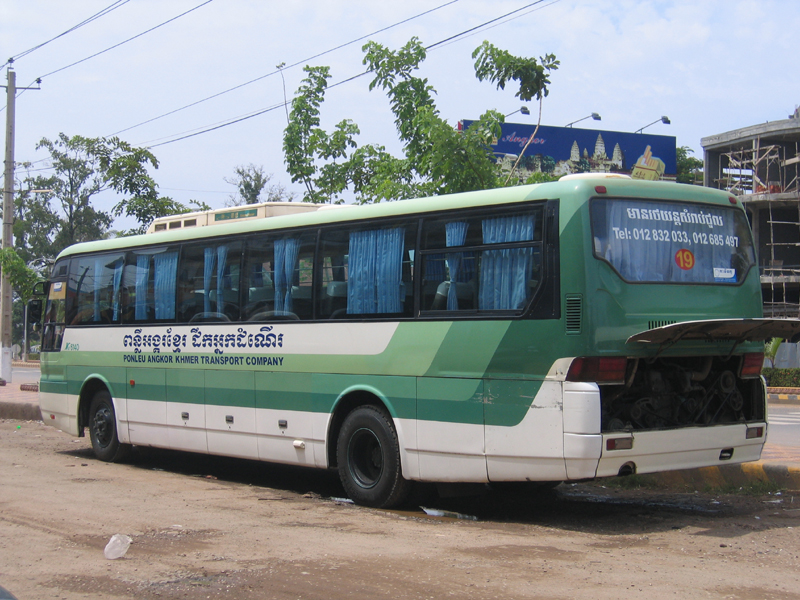 Transportation
The main means of reaching the city is via buses from Bangkok, Phnom Penh and Siem Reap. The airport is not much used, and the passenger rail service has not yet been restored.
There is also (except during the lowest water levels of the dry season) a daily boat connection between Battambang and Siem Reap via the Sangkae River. Since the buses are faster and cheaper, the scenic trip is nowadays used mainly by tourists and some locals who live along the river.
Buses or Vans
There are many Bus companies like Giant Ibis, Mekong Express, PSD Xpress, Sorya Bus, Neak Krohorm, Thero Express (15-seat), Larryta, KSO, Virak Buntham, Kampot Express, Cambodia Post VIP Van offering bus/van services to Battambang town using modern air-conditioned buses/vans. Buses/vans depart every 15 minutes to one hour, daily from 6am-12pm mid night. The prices are reasonable.
Online Bus ticket
can be purchased in advance.
Featured bus/van to Battambang:
Share Taxi
Share Taxi Battambang to Phnom Penh US$ 10-15, Battambang to Sisophon 50 baht (US$ 3), Battambang to Pursat 100 baht (US$ 5)
Train
The old saying goes there is no such thing as a free lunch, but in Cambodia, the old train is still free. for foreigners, that's it. However, it will just cost you some time (maybe some officers will ask you for a creative donation). The Phnom Penh to Battambang journey usually takes about thirteen to fourteen hours, if no mishaps occure. The scenery is not nearly as stunning as parts of the Phnom Penh-Kampot-Sihanoukville routes, but you certainly will get a good sampling of rural agriculture scenery.
Schedule:
Phnom Penh to Battambang departs between 6:20 & 7 am daily
Sisophon to Battambang departs at around 2 pm daily
Battambang to Phnom Penh -departs between 6:30 & 7 am daily Battambang to Sisophon -departs between 6:45 & 7:15 am daily.
Motorcycle Touring Info
Riding by motorcycle is the best way to see the countryside and the sights along the way. You may stop by at some pagodas or ancient temples on the national road No 5.
Battambang to Phnom Penh
It's a tough but definitely doable road if you are on a motorcycle circuit tour. They are slowly (slower than an ant's pace) resurfacing sections between Battambang, Pursat and Kampong Chhnang, from which the road is then pretty fair to Phnom Penh. On the Battambang -Phnom Penh highway, daytime security is not a problem, but at night scores of military checkpoints spring up with logs being put across the road so that vehicles stop. They just want a toll fee but it's not a fun time of the day to be dealing with the soldiers as they are pretty liquored up by then. Avoid possible problems and just ride of taxi during daylight hours.
Battambang to Sisophon
The trip is about 64 km and takes about 11/2 hours. Battambang to Pursat is about 103 km and takes about three hours. Battambang to Phnom Penh takes about six to eight hours, depending greatly on whether you are riding yourself or in a share taxi (which mostly takes longer). The road between Battambang and Pailin is a very rough road that has only a few decent stretches -it's a lot better than it was a few years back, but that knowledge won?t mean much to your sore tail-side.

Security is not a problem. Getting to Phnom Banan is easy-just head south on the River Road (Road1) about 20 km, which at a moderate pace should take just over half and hour. You can't miss the big hill with the temple on top, visible on the right side of the road.

Turn right at the dirt road that runs smack into the middle of the hill. There are drinks and snack stands near the base of the stairway going up. There is also a dirt road going to the left by the stands that you could take up, but take the stairway as the Khmers did at the time the temple was in use.It's part of the fun. A round-trip moto-taxi from Battambang is approximately 120 baht (US$ 4.5) including their waiting time.
Search Bus, Taxi, Boat from/to Battambang
Travel next destinations