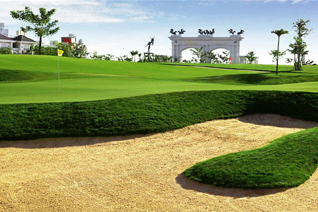 Grand Phnom Penh Golf Club is an integral part of Grand Phnom Penh International City, the first and largest new township development in Phnom Penh, the capital of the Kingdom of Cambodia.
Grand Phnom Penh Golf Course is a course which developed and designed by NICKLAUS. The Grand Phnom Penh Golf Club presents a brilliantly designed, international standard Nicklaus Design 18-hole golf course where at every hole you are constantly challenged to play and enjoy the game of golf at its very best.
Nicklaus Design, the global firm founded by golf legend Jack Nicklaus and privately owned by the Nicklaus family, is widely regarded as the world's leading design firm.
The company has 341 courses open for play in 33 countries and 39 states. Of those 341, Jack Nicklaus has been involved in the design of 273 courses. At least 63 Nicklaus Design courses have been ranked in various national or international Top-100 lists, and no fewer than 87 Nicklaus courses have hosted a combined total of over 600 professional tournaments worldwide or significant national amateur championships.
Nicklaus Design currently has more than 40 courses under construction and projects under development in 46 different countries.
Grand Phnom Penh International City
Street 598, Phum Khmuonh, Sangkat Khmuonh, Khan Sen Sok,
Phnom Penh Capital, Kingdom of Cambodia
Phone(s): +(855) 23 6900-777, +(855) 12 502481
Fax: (+855) 23 997 883
Website: grandphnompengolf.com
More Articles on Things To Do