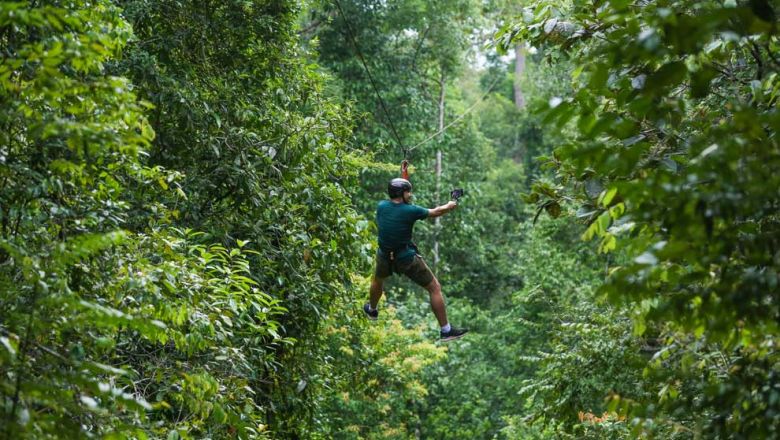 Vong Srey Oun is among the participants who benefited from the self-improvement and team building programme organised by the Jombok Hoas Adventure Learning Centre.
"I am acrophobic [a fear of heights] but after my friends shouted words of encouragement, I climbed up to the treehouse," said Srey Oun, an employee travelling as part of a retreat group.
Srey Oun's first activity was the Suspension Bridge Challenge – where you traverse 170m of bridges connected between trees, then zip line 20m above the ground for 60m.
With this activity, Srey Oun confronted her acrophobia, subsequently raising her hand first to take on the Flying Giant Swing challenge.
Pale-faced and visibly scared, Srey Oun screamed loudly as she overcame her fear, before a wide smile of relief came over her face after completing "the impossible".
The Blind Walk, Build Angkor Wat, Spider Web, Nail Walk and Engagement Ring are the other activities available at Jombok Hoas.
Located in Preah Vihear province's Rovieng district, the learning centre was launched in 2004 by the Adventist Development and Relief Agency Cambodia (ADRA).
"Our activities cultivate stronger bonds among colleagues and encourage better communication, which are crucial for higher productivity," said project manager Som An.
All activities at the learning centre are carried out on a fenced 20ha plot of land, except for the 600m Zip Line.
To date, Jombok Hoas has welcomed 6,000 people from more than 150 groups consisting of NGOs, government bodies, communities, students and underprivileged groups.
Participants build their confidence, thinking abilities, problem-solving skills, communication skills and environmental awareness through the activities.
"As a member of an organisation, they should help their boss and teammates. If someone in the team does not participate and separates themselves from other members, it is hard for them to reach a destination," said instructor Chheoun Sunny.
Fellow instructor Chhun Cheat said: "These activities focus on positive thinking, aided with the 'I can do it' slogan. The games encourage participants to confront the challenges they face."
NGO employee Phiny Mey spent four days with her retreat team in the centre.
She said the games raised her team's awareness of the importance of helping each other solve problems.
"Every single activity at the game field reflected the five principles [of the centre]," said Mey.
Wearing a T-shirt featuring the slogan 'I can do it', instructor Sorn Som An said that each activity focused on a different function.
He raised the example of the spider web game, involving participants working as a group to walk from one place to another without falling.
Som An said that activities conducted at the centre are tailored to the participant's group – for instance if they are from an NGO, private company or family – with instructors arranging activities according to their needs.
"If they are company employees, we arrange for them to participate in team-building games. The activities help them to identify new ideas to develop their company.
"Or, if there are team members in conflict and not cooperating well together, we will arrange activities to 'diffuse' the tension and encourage positive interactions.
"When they play games they are not aware that the game reflects the situation in their company. Upon completion of the games, they realise what is important for their company to progress. They don't chat with each other in the workplace, but they have to communicate among themselves here," said Som An.