Things to See and Do - Sihanouk ville, Cambodia
Koh Rong Island - Sihanouk ville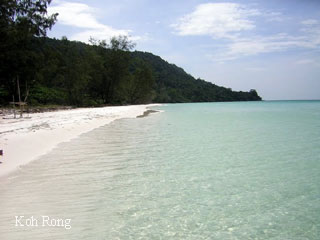 Koh Rong (Koh Touch) Island is a Cambodian Island in the Gulf of Thailand, at about 40km off the coast of Sihanoukville. Actually, the island is deserted, undeveloped and untouched. It's a secret island. But it will be soon one of the famous touristic destination of Cambodia. The island is certainly the most beautiful island of the Kompong Som Region. A snowdrift bay, covered by a crystal clear and turquoise water, stretches on several kilometers. At the center, a jungle with thousands of coconut palms and waterfalls invade the island. Paradise found on Koh Rong
Koh Rong has two ferry options. The slow boat leaves 2-3 times daily and takes 2 1/2 hours. ($5/10$ round trip with open return as of February 2014). The fast boat takes 40 minutes-1 hour and leaves about twice daily. ($20 R/T with open return). Three of the fast boat companies have websites, these are Speedferrycambodia, Sea Cambodia and Buva Sea, the websites have up to date information on destinations and timetables.
The ferries are fairly basic and not very comfortable. The new high speed ferries are pretty comfortable, but often times more tickets than seats are sold, so make sure to show up early if you don't want to stand for the hour long journey. Make sure you carry a hat and sunglasses for the ride, and use sunscreen if required. As of Feb 2014, water is not sold on the ferry and neither are snacks or other drinks. It may be a good idea to carry some with you, especially if you are travelling with children. There is a small toilet on board the ferry which seems to be clean and in decent working condition.
To board and disembark from the ferry you will need to walk on an average sized plank of wood connecting the pier to the ferry. The process is not very efficient and can be a little scary the first time you try it, so bear this in mind if you have any foot injuries, have special needs etc.
There seem to be at least two different slowboat services, so shop around the agencies in town to see what they offer.
1) The Dive Shop and Monkey Island ferries leave Sihanoukville in the morning and in the afternoon, at varying times: the morning service is between 8 and 9 am, and the afternoon one between 1 and 2 pm. The Boat is returning at 10 am and 3-4pm from the island to Sihanoukville as of May 2013. This ferry will not take you to Sok-San bungalows, which is on the other side of the island (Long beach). These ferries take around two hours. There is also now a fast ferry taking any 40 minutes and traveling four times a day. The fast ferry costs $20 return.
2) Similarly, Sok-San bungalows run a ferry service which leaves Sihanoukville at 9 am or so, but this ferry will not take you to the side of the island where the majority of guesthouses and tourist facilities are situated.
Make sure that you are absolutely certain that the ferry you are booked to take will drop you off at your destination. There have been instances of resort owners refusing to let guests take boats to the other side of the island (Sok-San to Monkey Island etc.), and insisting that you stay on their beach. Also, if you are on a schedule make sure that you arrive at the pier for your return as the ferry is first come first serve and there isn't always space.
Also note that all ferry tickets include a ride to and from the main town area in Sihanoukville, so you should not have to pay extra for the same. The buses from the city centre leave at least 30 minutes before the ferry departure. Sometimes, though, the ferries leave from the main pier on the Serendipity beach.
Get Around
There are no roads on the island yet so the only way to get around is on foot. The walking man of Koh Rong (an Israeli guy called Gil) has marked trails that lead from the beach closest to Monkey Island and Paradise Bungalows to other beaches but most of the island is still thick jungle. He has since left. Some other guy at Paradise Bungalows supposedly offers trekking tours, but not to the beaches and charges $20. The main well-known hiking path is the one to Long Beach (also known as 7KM Beach, Sok San Beach). The only other option is to hire a local fishing boat to take you around the Island. Be advised that nowadays guesthouses / hostels will lie to you saying the walk to Long Beach is "too dangerous" (which is not true!) so that they can take you there for $10 on a group boat trip that they all offer every day which includes snorkeling, fishing and mediocre BBQ.
What to see
With 23 white sand beaches to choose from Koh Rong has plenty to see and do. For the adventurous there's plenty of trekking to be done through the relatively untouched jungle. Diving and snorkelling is excellent both off the beach and at sites nearby. But above all the best attraction is the phosphorescent water which sparkles when disturbed like twinkling stars. Best seen in around 4 feet of water and on a dark part of the beach. Because Koh Rong has minimal development and light pollution the conditions are perfect for the phosphorescent plankton and it can be seen every single night.
Be sure to head to Long Beach, either by foot through the jungle or by long tail boat. The hike is 45 min-55 min each way, through dense jungle and lots of scrambling on steep wet rocks closer to Long Beach. Lots of mosquitoes. Bring water (please don't litter/sad to see so much rubbish). As of July 2015: Long Beach isn't the glorious beauty that was expected due to massive construction on the left side of the beach. Also filming Survivor on the right side of the beach. Perhaps by high season (Nov-Feb), there will be new accommodations after construction finishes and the film crew will have departed. To get there: find one of two entrances from the main Koh Rong Beach , either through the alley near Dream Catch Inn, or from Sky Bar. Then turn LEFT on the trail and you will see periodic red trail markings.
Also be sure to check out HIGH POINT ADVENTURE PARK, this is the newest activity on Koh Rong and has without a doubt the best views of the ocean, the jungle, and the main beach on the entire island. Perfect place to take some very envy evoking pictures of this incredible island
What to do
Snorkelling

.

Various places and people will offer snorkelling trips on their long tail boats. Native Khmer guides, while cheaper, will most likely be unable to communicate with you in english and will just point to things.

$10-$20

.
If you're a diver, you can Scuba Dive on Koh Rong, and with over 15 dive sites less than 30 mins boat ride from the center you can do multiple dives and see different things every time. If you are not a diver, then the Koh Rong Dive Center has a full range of teaching courses from Open water to Dive Master that you can do at one of the cheapest prices in all of Asia. Keep in mind during "low season" the weather is not very cooperative, and thus the waves are choppy, sand is mixed up, and visibility is about 1 meter or less (read: not suitable for diving).
You can also go from the depth of the ocean to the heights of the tallest trees on the island with HIGH POINT ADVENTURE PARK. This is the newest attraction on Koh Rong opening up on in March 2014. It has over 25 stations ranging from a 120 meter zip line to rope bridges to a surfboard zip line. HIGH POINT also has the best views of the whole island and is a must do while on Koh Rong.
Pub Crawl

.

Check the bars on the island. Meet some friends alongthe way. Makes for a good, fun, night out. Every Tuesday and Friday night.
Where to eat
The Gordon

(

Late night food

),

Outside Vagabonds

,

0

0:30pm-1:30am

.

The only and best lat night food on the island. Featuring chicken sandwiches and hot dogs they are sure to satisfy your alcohol fueled hunger.

3$-5$

.

Smile Restaurant

,

Tui Beach, near Happy Bungalows

.

Very tasty and cheap food ($3-$5). Including plenty of vegetarian options. Great comfortable seating on the sand. Staff are not very attentive, many times you have to go inside to order because they won't pay attention for some periods, but are otherwise nice locals and it's worth it for the cheap tasty food and beach view.

Vagabonds

, (

Opposite the Seahouse Pier

),

8am-9pm

.

Really good western food featuring favourites like mac and cheese, pulled pork buns and beef chilli. The homemade veggie burgers are a must try!

3$-6$

.

Buffalow

,

Pier where SpeedFerry arrives

.

Buffalow serves everything from wood-fired pizzas to Turkish breakfasts, to mojitos. Note that because it is a large beautiful location (complete with fitted "Western Buffalo" decor), the prices are considerably high for Cambodia. Also there are not as many traditional cambodian dishes. Come for the burgers and social scene. Also has great lounge seating (cushions) on the other side of the pier for a fresh breeze.

This place has unfortunately been largely destroyed by a fire and remains closed as of May 2016.

Tree House Restaurant

,

Tree House Resort

(

at the end of White beach (4k beach direction)

),

☎

+855 15 755 594

,

Tree House Bungalows, opened in 2008, a resort located in a privileged setting at the front beach of Koh Rong. The resort has 37 bungalows, which offer you a renovated style of comfort on the island. If you are looking for great Khmer & Western cuisine in Koh Rong, then the Tree House Bungalows offers you the beachfront restaurant. Tree House Bungalows is an ideal location in the heart of Koh Rong which can cater for all of your needs, whether you are travelling alone, with family or with friends
Where to Sleep
Monkey Island

(

Monkey Island Cambodia

),

Koh Rong

(

Right at the pier 200m up the beach

),

☎

081830992

,

checkin:

12:00

; checkout:

10:30

.

Budget accommodation situated right on the beach. Bar with sea views to die for and great food from a Thai chef. Bungalows from 30 $ Till 35 $ Nice Bar and Restaurant

$15

.
Island Boys

(

Koh Rong's backpacker central

),

☎

+85570240154 (kohrongislandboys@gmail.com)

,

A very popular backpackers offering everything you need under the one roof. Owned by four young guys who have put their own travels on hold to create a fun place for everyone to enjoy. There's a great restaurant with the islands best BBQ, matched by an extensive drink menu with a young and enthusiastic vibe. Island Boys also offers varying island tours, fishing/snorkelling trips, a cash service, fire spinning, island information and live sports/cable tv, on top of the modern comforts of free WiFi, fans and reliable power sockets. Guests receive free drinks between 6-7pm everyday. Prices vary depending on season.
Lonely-Beach Bungalow Resort

, (

secluded bay at northern coast of Koh Rong

),

☎

+855 812 758 77 (info@lonely-beach.com)

,

Lonely Beach Bungalow Resort. The resort enjoys privileged access to the beautiful beach and no boat traffic. Accommodation: Alone standing bungalows with private bathroom. Double bungalows for $30 and family bungalows $40. "Birds nests"- small bungalows with shared community bathroom, 20$. "Khmer-style" dormitory with beds for $8. Showers and bathroom are outside. Rates are higher in high-season (middle of December-January). Restaurant with Khmer and European cuisine. Boat transfer from Sihanoukville and back $20.
Vagabonds

,

Opposite the koh rong backpackers pier

,

Chilled out guesthouse/bar/restaurant with hippie artwork, good music, beds in the bar and outside to lounge around on, several happyhours, and even the odd fire show. Dorms from $5 and very cheap private rooms.

Dream Catch Inn

,

Koh Tui Village, Koh Rong, Sihanoukville, Cambodia

(

turn left off the pier!

). checkin:

10am

; checkout:

9.30am

.

Dream Catch Inn is a small guesthouse on Koh Rong that works closely with the local Conservation Center. It is 100% solar powered, has the fastest Wifi in the village, and isnt near any late night bars.

10-20

.

Bongs

(

Bongs

), (

Turn right from the ferry wharf just past Vagabonds

).

Bongs, run by a super friendly British couple is a great location - far enough from the all night bar to sleep close enough to have fun. Dorms and private rooms available - prices vary depending on the season.

Pura Vita Resort

(

(Pura Vita Beachfront Bungalow Resort)

),

Sonaya Beach, Koh Rong

(

5min water taxi ride from the pier on the South East Coast

),

☎

+855 15 700 083

,

Exclusive beachfront bungalows on a secluded 4km stretch of sandy white beach away from the bustling pier area. A water taxi service is provided to pick guests up from the pier and taxi them around to the resort on arrival Pura Vita Resort has an open air restaurant with an Italian inspired menu and coffee bar. Room rates include a full breakfast.

Artie's

, (

located on the Sonaya beach, not far from the Pura Vita resort. Turn right as you get off the pier, walk to the end of the main beach, through the treetop bungalows and a bit of jungle, and then some more down the next beach.

).

Just an old Australian musician renting tents (no sleeping mats!) ($5), hammocks ($3), or just a camp site ($3) if you have your own tent. The whole operation has questionable legal status (Feb, 2014), so it is unclear for how long will it operate. You can incorporate beers in your daily rental fees.
Tree House Bungalows

, (

Turning right at the pier, the entrance to Tree House is at the far end of the beach (750m walk)

),

checkin:

10:00

; checkout:

09:00

.

Collection of tree houses right on the beach and bungalows a few dozen meters inland. Restaurant does breakfast, lunch and dinner. Wifi at the bar. Tree houses are stunningly set, but quite basic for the price.

US$ 45

.
Warning: during the high season, it can be very difficult to find accommodation on the island.
Sok San Beach Bungalows

,

Northern end of Sok San Beach

(

Take boat from Tuich Beach Main Pier to Sok San Beach

),

11 bungalows right on the beach all with stunning views of one of the best beaches in Cambodia with the most beautiful white sand stretching for more than six kilometres. Bar / restaurant built over the water.

$20-$60

.

White Beach Bungalows

,

right end of Tui Beach

(

turn right off the main pier, it's located on the far end of the beach

).

Great bungalows, several windows, very safe. Views of the beach. Comfortable beds (not hard mattress, for a change in SE Asia!), plenty of space, private bathrooms. Located in the quiet part of the beach. Also has a nearby restaurant (White Beach Restaurant) which has good food and very good WiFi reception.

$30-40 (low season)

.

Smile Guesthouse

,

(located at Smile Restaurant, about halfway down the beach after turning right at the pier)

. checkin:

1:00 pm

; checkout:

10:00 am

.

Smile Guesthouse is basic but very suitable for backpackers who want to stay a bit further away from the noisy bars yet still close enough to grab that drink and not stumble home. Guestrooms are on the 2nd floor, and most are 2 beds, some are 1 bed. Share bathroom. Both stalls have one toilet and one shower each. Staff are nice and do just about the minimum, for example didn't clean the bathroom between guests. (maybe this is because it was Low season/July 2015). No breakfast or other amenities. However, there is 24-hour electricity and a fan in each room. Good view of the beach from the balcony. Guestrooms are $8-10 in low season and likely $16 during high season.

$8-18

.
Map of Koh Rong Island
Other Attractions in Sihanouk ville
Search for Bus Tickets
Travel next destinations